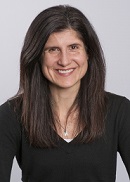 Lori Pile
Address
4125 BSB, 5047 Gullen Mall Detroit, MI 48202
Office Address
4125 BSB, 5047 Gullen Mall
Detroit, MI 48202
Department
 Biological Sciences
Research Interests
Chromatin structure and function
Regulation of gene expression
Histone modification in development, cell proliferation and metabolism
Cancer epigenetics
Research Description
Gene expression is regulated in part by the interactions of genomic DNA with the packaging histone proteins. Research in the Pile laboratory is directed toward understanding how genome packaging affects gene expression. Histones undergo a variety of modifications including acetylation, phosphorylation and methylation, which in turn affect the level of packaging. We are currently investigating how the SIN3 histone deacetylase complex functions to repress transcription at the epigenetic level. SIN3 is required for viability of multi-cellular organisms and mutations in components in the complex have been linked to defects in cell cycle progression. Current objectives of the lab are to understand regulatory pathways that affect SIN3 activity and to understand the consequences of SIN3 recruitment at target genes. We are taking a multi-pronged approach to address these questions in the model organism Drosophila melanogaster and in lung cancer. We utilize a combination of biochemical, molecular and genetic techniques to understand the mechanism of SIN3 gene regulation. Data from these studies will help to elucidate the contribution of histone acetylation to signaling cascades that impact cellular decisions critical for proliferation, development and viability. Information gained is critical for the development of new treatments for a variety of human health disorders, including cancer and metabolic disease.
Recent Publications
Allison V Mitchell, Ling Wu, C James Block, Mu Zhang, Justin Hackett, Douglas B Craig, Wei Chen, Yongzhong Zhao, Bin Zhang, Yongjun Dang, Xiaohong Zhang, Shengping Zhang, Chuangui Wang, Heather Gibson, Lori A Pile, Benjamin Kidder, Larry Matherly, Zhe Yang, Yali Dou, Guojun Wu. FOXQ1 recruits the MLL complex to activate transcription of EMT and promote breast cancer metastasis. Nature Communications 2022;13:6548.

Mitra A, Vo L, Soukar I, Chaubal A, Greenberg ML, Pile LA. Isoforms of the transcriptional cofactor SIN3 differentially regulate genes necessary for energy metabolism and cell survival. Biochim Biophys Acta Mol Cell Res. 2022;1869:119322. 
Mitra A, Raicu AM, Hickey SL, Pile LA, Arnosti DN. Soft repression: Subtle transcriptional regulation with global impact. Bioessays.
2021 ;43:e2000231. 

Liu M, Saha N, Gajan A, Saadat N, Gupta SV, Pile LA. A complex interplay between SAM synthetase and the epigenetic regulator SIN3 controls metabolism and transcription. J Biol Chem. 2020;295:375-89. 

Barnes VL, Laity KA, Pilecki M, Pile LA. Systematic Analysis of SIN3 Histone Modifying Complex Components During Development. Sci Rep. 2018;8:17048. 

Chaubal A, Pile LA. Same agent, different messages: insight into transcriptional regulation by SIN3 isoforms. Epigenetics Chromatin.
2018;11:17. 
 
Education/Training
PhD in Molecular Genetics, Biochemistry and Microbiology (1998): University of Cincinnati Medical School
Courses Taught
CB7220 Molecular Biology of Cancer Development