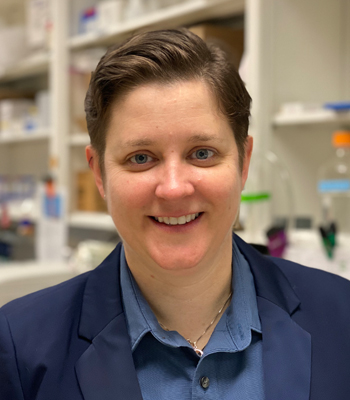 Heather Gibson
Assistant Professor
313-576-8257
Address
4100 John R, HWCRC 515 Detroit, MI 48201
Office Address
Barbara Ann Karmanos Cancer Institute
4100 John R, HWCRC 515
Detroit, MI 48201 
Mentoring
Justin Hackett 
Department
 Oncology
Research Interests
Imaging modalities to monitor immune activity in situ
Genetic regulation of immune response, particularly in the context of anti-tumor immunity
Development and manipulation of regulatory T cells (Tregs)
Regulation of T cell trafficking and activation in the tumor microenvironment (TME)
Research Description
Cancer immunotherapy breakthroughs have shown tremendous promise, but there remains an urgency to determine which patients will respond and why many do not. The goal of my lab is to address these issues by combining novel imaging approaches with functional genomics to both monitor immune response
in vivo
and determine genes and/or pathways involved in T cell trafficking and activity. In addition, pathways governing Treg development and function are pursued with the goal of manipulating their behavior either systemically or locally to influence adaptive immune responses. We use innovative genetically heterogeneous animal models in our approach to mimic the genetic diversity of humans, with whole-genome single nucleotide polymorphism (SNP) profiling to identify genomic loci associated with the phenotype of interest. Mechanistic validation is used to pinpoint causal genes and discern their role in immunotherapy response. Clinically relevant tumor and disease models are utilized to promote translation to improve patient care.
Selected Publications
Jones RF, Reyes JD, Gibson HM, Jacob JB, Vaishampayan U, Ratner S, Chen K, Wei WZ. An HER2 DNA vaccine with evolution-selected amino acid substitutions reveals a fundamental principle for cancer vaccine formulation in HER2 transgenic mice. Cancer Immunol Immunother. 2019;68:1143-55.
Gibson HM, Viola NT. The importance of examining an active immune system during immunotherapy. Oncotarget. 2019;10:559-60.
Gibson HM, McKnight BN, Malysa A, Dyson G, Wiesend WN, McCarthy CE, Reyes J, Wei WZ, Viola-Villegas NT. IFNγ PET Imaging as a Predictive Tool for Monitoring Response to Tumor Immunotherapy. Cancer Res. 2018;78:5706-17.
Wei WZ, Jones RF, Juhasz C, Gibson H, Veenstra J. Evolution of animal models in cancer vaccine development. Vaccine. 2015;33:7401-7.
Wong HK, Gibson H, Hake T, Geyer S, Frederickson J, Marcucci G, Caligiuri MA, Porcu P, Mishra A. Promoter-Specific Hypomethylation Is Associated with Overexpression of PLS3, GATA6, and TWIST1 in the Sezary Syndrome. J Invest Dermatol. 2015;135:2084-92.
Gibson HM, Veenstra JJ, Jones R, Vaishampayan U, Sauerbrey M, Bepler G, Lum L, Reyes J, Weise A, Wei WZ. Induction of HER2 Immunity in Outbred Domestic Cats by DNA Electrovaccination. Cancer Immunol Res. 2015;3:777-86.
Veenstra JJ, Gibson HM, Freytag S, Littrup PJ, Wei WZ. In situ immunization via non-surgical ablation to prevent local and distant tumor recurrence. Oncoimmunology. 2015;4:e989762.
Gibson H, Munns S, Freytag S, Barton K, Veenstra J, Bettahi I, Bissonette J, Wei WZ. Immunotherapeutic intervention with oncolytic adenovirus in mouse mammary tumors. Oncoimmunology. 2015;4:e984523.
Education/Training
BS in Biochemistry and Molecular Biology (2004): Michigan State University, East Lansing, Michigan
PhD in Immunology (2011): Wayne State University, Detroit, Michigan
Courses Taught
CB7210 Fundamentals of Cancer Biology
CB 7410 Cancer Immunology and Immunotherapy