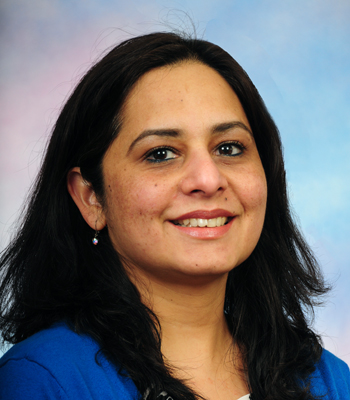 Ramandeep Rattan
Adjunct Assistant Professor, Department of Oncology
Assistant Scientist
Women's Health Services
Henry Ford Hospital 
313-876-7381
Research Interests
AMP-activated protein kinase (AMPK)-mediated regulation of immunometabolism in ovarian cancer.
Adipocyte-ovarian cancer interaction
Targeting chemo-resistance in ovarian cancer 
Research Description
The Rattan lab is centered on translational ovarian cancer research, the most lethal of gynecologic malignancies.
The metabolic enzyme AMPK is a master regulator of metabolism in all living beings. It is activated by the anti-diabetic drug metformin, which is been extensively studied as a repurposed drug for treatment of various cancers, including ovarian. We have published metformin's ability to inhibit ovarian tumors. We are currently studying the pathological role of AMPK in ovarian cancer using global and site-specific AMPK knockout mice. Our recent studies indicate that absence of AMPK promotes immunosuppression creating conducive environment for immune escape resulting in aggressive ovarian cancers. Our current studies include detailing the mechanism of AMPK mediated regulation of immunometabolism and anti-tumor immunity.
Elucidation and therapeutic targeting of adipose tissue and ovarian cancer interactions. Adipocytes have recently been shown to play an integral role in promotion and spread of ovarian cancer. We are interested in studying the uptake and signaling talk that occurs between the fatty acids released by the adipocytes and ovarian cancer cells, through understanding the role of novel free fatty acid receptors.
We are looking at chemoresistant ovarian cancer from two aspects. First, we are dissecting the metabolic differences between chemo-sensitive and -resistant ovarian tumors. Second, we are studying the role of mito-STAT3 in chemoresistance. 
Recent Publications
Dar S, Chhina J, Mert I, Chitale D, Buekers T, Kaur H, Giri S, Munkarah A, Rattan R. Bioenergetic Adaptations in Chemoresistant Ovarian Cancer Cells. Sci Rep. 2017;7:8760.
Munkarah A, Mert I, Chhina J, Hamid S, Poisson L, Hensley-Alford S, Giri S, Rattan R. Targeting of free fatty acid receptor 1 in EOC: A novel strategy to restrict the adipocyte-EOC dependence. Gynecol Oncol. 2016;141:72-9.
Al-Wahab Z, Mert I,Tebbe C, Chhina J, Hijaz M, Morris R, Ali-Fehmi R, Giri S, Munkarah A and Rattan R*. Metformin prevents aggressive ovarian cancer growth driven by high-energy diet: similarity with calorie restriction. Oncotarget.2015;6:10908-23.
Poisson L, Munkarah A, Madi H, Datta I, Hensley-Alford S, Tebbe C, Buekers T, Giri S and Rattan R*. A metabolomic approach to identifying platinum 3 resistance in ovarian cancer. J of Ovarian Res. 2015:8:13.
Al-Wahab Z, Tebbe C, Chhina J, Dar S, Morris R, Giri S, Munkarah A and Rattan R*. Dietary energy balance modulates ovarian cancer progression and metastasis. Al-Wahab Z, Tebbe C, Chhina J, Dar SA, Morris RT, Ali-Fehmi R, Giri S, Munkarah A, Rattan R*. Oncotarget. 2014;5:6063-75.
Tebbe C, Chhina J, Dar S, Sarigiannis K, Giri S, Munkarah A and Rattan R*. Metformin limits the adipocyte tumor-promoting effect on ovarian cancer. Oncotarget. 2014;5:4746-64. 
Education/Training
Postdoctoral training (2006-2011), Mayo Clinic, Rochester, MN
PhD (2005), Medical University of South Carolina, Charleston, SC
MS (1999), Central Research Institute, India
BSc (1996), PGIMER, India