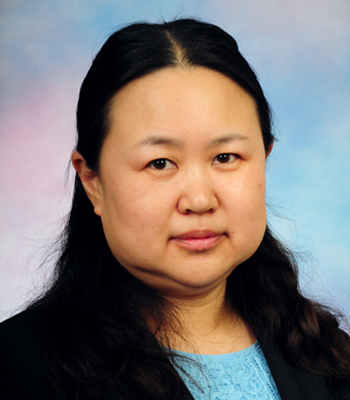 Mary Zhang
Associate Professor
313-576-8672
Address
716 HWCRC 4100 John R. Detroit, MI 48201
Department
Oncology
Research Interests
• Defining the role of HDAC6 and USP10 in the DNA damage response, DNA repair, and cell death
• Elucidating the role of HDAC6 and USP10 in lung cancer initiation and progression in genetically-engineered mouse models
• Exploring the role of USP10 in anti-tumor immune responses
 
Research Description
Dr. Zhang's lab has a long-standing interest in the enzymes responsible for post-translational modifications with a particular interest in histone deacetylases (HDACs) and deubiquitinating enzymes (DUBs). Her lab was the first to show that HDAC6 harbors a novel ubiquitin E3 ligase activity and participates in the DNA damage response and DNA repair. Her lab was among the first to reveal that both HDAC6 and USP10 are associated with cisplatin sensitivity in lung and ovarian cancer. Her lab currently focuses on elucidating the role of HDAC6 and USP10 in lung cancer initiation, progression, the DNA damage response, DNA repair, and cell death using biochemical approaches as well as various cell lines and mouse models.
Recent Publications
Allison V Mitchell, Ling Wu, C James Block, Mu Zhang, Justin Hackett, Douglas B Craig, Wei Chen, Yongzhong Zhao, Bin Zhang, Yongjun Dang, Xiaohong Zhang, Shengping Zhang, Chuangui Wang, Heather Gibson, Lori A Pile, Benjamin Kidder, Larry Matherly, Zhe Yang, Yali Dou, Guojun Wu. FOXQ1 recruits the MLL complex to activate transcription of EMT and promote breast cancer metastasis. Nature Communications 2022;13:6548. 
Hu C, Zhang M, Moses N, Hu CL, Polin L, Chen W, Jang H, Heyza J, Malysa A, Caruso JA, Xiang S, Patrick S, Stemmer P, Lou Z, Bai W, Wang C, Bepler G, Zhang XM. The USP10-HDAC6 axis confers cisplatin resistance in non-small cell lung cancer lacking wild-type p53. Cell Death Dis 2020:11:328.
Zhang M, Hu C, Moses N, Haakenson J, Xiang S, Quan D, Fang B, Yang Z, Bai W, Bepler G, Li GM, Zhang, X. HDAC6 regulates DNA damage response via deacetylating MLH1. J Biol Chem. 2019;294:5813-26.
Wu JY, Xiang S, Zhang M, Fang B, Huang H, Kwon OK, Zhao Y, Yang Z, Bai W, Bepler G, Zhang XM. Histone deacetylase 6 (HDAC6) deacetylates extracellular signal-regulated kinase 1 (ERK1) and thereby stimulates ERK1 activity. J Biol Chem. 2018;293:1976-93.
Shan P, Fan G, Sun L, Liu J, Wang W, Hu C, Zhang X, Zhai Q, Song X, Cao L, Cui Y, Zhang S, Wang C. SIRT1 Functions as a Negative Regulator of Eukaryotic Poly(A)RNA Transport. Curr Biol. 2017;27:2271-84.
Niu X, Zhao J, Ma J, Xie C, Edwards H, Wang G, Caldwell JT, Xiang S, Zhang X, Chu R, Wang Z, Lin H, Taub JW, and Ge Y. Binding of released Bim to Mcl-1 is a mechanism of intrinsic resistance to ABT-199 which can be overcome by combination with daunorubicin or cytarabine in AML cells. Clin Cancer Res 2016;22:4440-51. 
Zhang M, Hu C, Tong D, Xiang S, Williams K, Bai W, Li G-M, Bepler G, Zhang, X. Ubiquitin-Specific Peptidase 10 (USP10) Deubiquitinates and Stabilizes MutS Homolog 2 (MSH2) to Regulate Cellular Sensitivity to DNA Damage. J. Biol. Chem 2016;291:10783-91.
Fan G, Sun L, Shen P, Zhang X, Huan J, Zhang X, Li D, Wang T, Wei T, Zhang X, Gu X, Yao L, Xuan Y, Hou Z, Cui Y, Cao L, Li X, Zhang X, and Wang C. Loss of KLF14 triggers centrosome amplification and tumorigenesis. Nat Commun 2015;6:8450
Radhakrishnan R, Li Y, Xiang S, Yuan F, Yuan Z, Telles E, Fang J, Coppola D, Shibata D, Lane W S, Zhang Y, Zhang X*, and Seto E. Histone Deacetylase 10 Regulates DNA Mismatch Repair and May Involve the Deacetylation of MutS Homolog 2. J. Biol. Chem. 2015;290:22795-804.
 
Zhang M, Xiang S, Joo H-Y, Wang, L, Williams, K, Liu W, Hu C, Tong D, Haakenson J, Wang C, Zhang S, Pavlovicz RE, Jones A, Schmidt KH, Tang J, Dong H, Shan B, Fang B, Radhakrishnan R, Glazer PM, Matthias P, Koomen J, Seto E, Bepler G, Nicosia SV, Chen J., Li C, Gu L, Li G-M, Bai W, Wang H, Zhang X. HDAC6 deacetylates and ubiquitinates MSH2 to maintain proper levels of MutSα. Mol. Cell 2014:55:31-46.
Education/Training
Ph.D. (1998) U.T. M. D. Anderson Cancer Center, Houston, Texas 
Courses Taught
CB7800Rigor and Reproducibility in Cancer Biology (Course Director)
CB7460 Mechanisms of Neoplasia: Alterations to Cellular Signaling-Protein Modification Signaling
CB7300 Biomarkers in Cancer
CB7220 Molecular Biology of Cancer Development