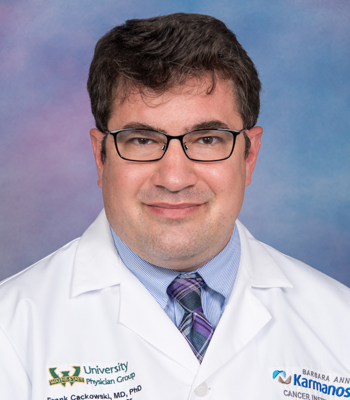 Frank Cackowski
Assistant Professor
313-576-8321
Office Address
Wayne State University and Barbara Ann Karmanos Cancer Institute
Department of Oncology and Molecular Therapeutics Research Program
4100 John R Street, HWCRC 715
Detroit, MI 48201
 
Department
Oncology
Research Interests
• Prostate cancer stemness, plasticity and metaplasia
• Prostate cancer dormancy and recurrence
• Regulation of the G0 phase of the prostate cancer cell cycle
 
Research Description
Tumors are heterogonous mixtures of billions of cells, and can change their characteristics over time and by location to adapt to their environment. This includes how some cancer cells adopt characteristics of tissue stem cells, which is important for them to initiate new tumors and survive our attempts at treatment. Sometimes this tumor plasticity extends so far as to allow the tumor to completely change its appearance. For example, in prostate and some other cancers, the cells can change from their typical appearance as abnormal duct lining cells (adenocarcinoma) to neuroendocrine cells that appear as if they had originated from completely different part of the body. Similarly, and possibly as an adaptation mechanism, prostate cancer cells can spread from the primary tumor to distant sites, lay dormant, and then grow into fatal disease years or decades later. These dormant disseminated tumor cells spend much of their time in the resting, or G0 phase of the cell cycle. Analogously, some studies have also shown that most of the cancer stem-like cells are contained within the quiescent, or G0 population. My lab is focused on these overlapping concepts of plasticity, dormancy, and quiescence. We use patient samples, cell culture, animal models, and bioinformatics to understand this biology and develop ways to prevent relapse, deepen treatment responses, and combat treatment resistance.
Selected publications
Jung Y, Kim JK, Lee E, Cackowski FC, et al. CXCL12gamma induces human prostate and mammary gland development. Prostate. 2020;80:1145-56.
Decker AM, Decker JT, Jung Y, Cackowski FC, et al. Adrenergic Blockade Promotes Maintenance of Dormancy in Prostate Cancer Through Upregulation of GAS6. Transl Oncol. 2020;13:100781.
Wang Y, Singhal U, Qiao Y, Kasputis T, Chung JS, Zhao H, Chammaa F, Belardo JA, Roth TM, Zhang H, Zaslevsky AB, Palapattu GS, Pienta KJ, Chinnaiyan AM, Taichman RS, Cackowski FC, Morgan TM. Wnt Signaling Drives Prostate Cancer Bone Metastatic Tropism and Invasion. Transl Oncol. 2020;13:100747. Co-Senior Author.
Lee CH, Decker AM, Cackowski FC, Taichman RS. Bone microenvironment signaling of cancer stem cells as a therapeutic target in metastatic prostate cancer. Cell Biol Toxicol. 2020;36:115-130.
Cackowski FC, Wang Y, Decker JT, et al. Detection and isolation of disseminated tumor cells in bone marrow of patients with clinically localized prostate cancer. Prostate. 2019;79:1715-1727.
Cackowski FC, Taichman RS. Parallels between hematopoietic stem cell and prostate cancer disseminated tumor cell regulation. Bone. 2019;119:82-86.
Cackowski FC, Taichman RS. Minimal Residual Disease in Prostate Cancer. Adv Exp Med Biol. 2018;1100:47-53.
Jung Y, Cackowski FC, Yumoto K, et al. CXCL12-gamma promotes development of metastatic castration resistant prostate cancer by induction of cancer stem cell and neuroendocrine phenotypes. Cancer Research 2018; 78:2026-39.
Cackowski FC, Eber MR, Rhee J, et al. Mer Tyrosine Kinase Regulates Disseminated Prostate Cancer Cellular Dormancy. J Cell Biochem 2017; 118:891-902.
 
Education/Training
B.S. in Biological Sciences with University Honors (2003): Carnegie Mellon University, Pittsburgh, Pennsylvania
Ph.D. in Biochemistry and Molecular Genetics (2009): University of Pittsburgh School of Medicine
M.D. (2011): University of Pittsburgh School of Medicine
Internal Medicine Residency (2013): University of Michigan, Ann Arbor, MI
Hematology and Medical Oncology Fellowship (2017): University of Michigan