Artem Berezovsky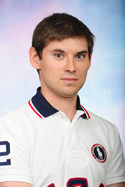 Artem Berezovsky
Senior Student
Dissertation Mentor: Ana deCarvalho, Ph.D.
Grants, Awards, Scholarships:
2017 Henry Ford Game on Cancer Most Valuable Volunteer 
Henry Ford Cancer Institute (HFCI) Cancer Research Advisory Group Travel Award to 2018 American Association for Cancer Research (AACR) Annual Meeting
2016-2017 Cancer Biology Director's Award Wayne State University School of Medicine
Publications:
Torre-Healy, Luke A., Artem Berezovsky, and Justin D. Lathia. "Isolation, Characterization, and Expansion of Cancer Stem Cells." Adult Stem Cells: Methods and Protocols (2017): 133-43.
Berezovsky AD, Poisson LM, Cherba D, Webb CP, Transou AD, Lemke NW, Hong X, Hasselbach LA, Irtenkauf SM, Mikkelsen T, deCarvalho AC. (2014) Sox2 promotes malignancy in glioblastoma by regulating plasticity and astrocytic differentiation. Neoplasia 2014;16:193-206. COVER ARTICLE
Hasselbach, L.A., Irtenkauf, S.M., Lemke, N.W., Nelson, K.K., Berezovsky, A.D., Carlton, E.T., Transou, A.D. and Mikkelsen, T., 2014. Optimization of high grade glioma cell culture from surgical specimens for use in clinically relevant animal models and 3D immunochemistry. JoVE (Journal of Visualized Experiments) 2014;e51088-e51088.
 Education:
MS Medical Physiology, 2015; Case Western Reserve University
BS Neuroscience, 2011; University of Michigan 
 Hometown: 
West Bloomfield, MI
Birthplace - Vilnius, Lithuania