Emily Teslow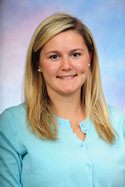 Emily Teslow
( Graduated 05/31/2019 )
Dissertation Mentor: Aliccia Bollig-Fischer, PhD
Research Focus:
Obesity and Breast Cancer

Grants, Awards, Scholarships:
The Cancer Disparities Research Network Travel Scholarship 2017
AACR Scholar-in-Training Award 2017
Komen for the Cure Graduate Training in Disparities Research Program Fellowship 2017-2018
Cancer Biology Director's Award, Wayne State University School of Medicine, 2015
Outstanding Academic Achievement Award, Elizabethtown College, 2015
Dr. Charles S. Farver-Apgar Memorial Biology Scholarship, 2014                                    
Elizabethtown College Biology Departmental Achievement, 2013/2014                                           
Beta, Beta, Beta, National Biological Honors Society, 2014
Phi Theta Kappa Honors Society, 2012   

Professional Development & Committees:
Cancer Biology Student Representative 2017-2018
Cancer Biology Symposium planning committee 2016
American Association for Cancer Research Associate Member 2016-present

Publications:
Teslow, E.A., Mitrea, C., Bao, B., Mohammad, R.M., Polin, L.A., Dyson, G., Purrington, K.S., Bollig-Fischer, A. (2019) Obesity-induced MBD2_v2 expression promotes tumor-initiating triple negative breast cancer stem cells. Molecular Oncology. Epub ahead of print
Teslow, E.A., Bao, B., Dyson, G., Legendre, C., Mitrea, C., Sakr, W., Carpten, J., Powell, I., Bollig-Fischer, A. (2018) Exogenous IL6 induces mRNA splice variant MBD2_v2 to promote stemness in TP53 wild-type, African American PCa cells. Molecular Oncology. 2018;12:1138-52.
Bao, B., Mitrea, M., Wijesinghe, P., Girsch, E.A., Marchetti, L., Boerner, J.L., Mohammad, R., Dyson, G., Farr, R.L., Terlecky, S. R., and Bollig-Fischer, A. Treating triple negative breast cancer cells with erlotinib plus a select antioxidant overcomes drug resistance by targeting cancer cell heterogeneity. Scientific Reports. 2017;7:44125
Girsch, E.A., McDevitt, D., Lord, K., Lehman, S., and Cavender, J.F. Simian Virus 40 Large T Antigenmediated transactivation of the cyclin A promoter is independent of p53 and TBP binding functions. BIOS. 2016;87:4.
Education:      
Bachelor of Science, Biotechnology (Drexel 4+1 Molecular Medicine Master's Program)
Elizabethtown College, Elizabethtown, PA, May 2015  
Hometown: Harrisburg, PA