Claire Soave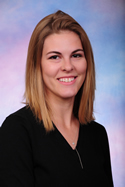 Claire Soave
(Graduated 8/15/2022) 
Dissertation Mentor: Manohar Ratnam, Ph.D.
Research Focus: Elucidating the Structure-Function Relationships in the Interactions of the Androgen Receptor, ELK1 and the Platform Antagonist KCI807 in Prostate Cancer
Grants, Awards, Scholarships:
NIH T-32 Grant Trainee CA009531 (2019-present)
Cancer Biology Director's Award (2017-2018)
Committee(s): 2019 Cancer Biology Graduate Program Research Symposium
Publications:
Pardy L, Rosati R, Soave C, Huang Y, Kim S, Ratnam M. The ternary complex factor protein ELK1 is an independent prognosticator of disease recurrence in prostate cancer. Prostate. 2020;80:198-208.
Soave CL, Guerin T, Liu J, Dou QP. Targeting the ubiquitin-proteasome system for cancer treatment: discovering novel inhibitors from nature and drug repurposing. Cancer Metastasis Rev. 2017;36:717-36.
Lucas S, Soave C, Nabil G, Ahmed ZSO, Chen G, El-Banna HA, Dou QP, Wang J. Pharmacological inhibitors of NAD Biosynthesis as Potential Anticancer Agents. Recent Pat Anticancer Drug Discov. 2017;12:190-207.
Ahmed RS, Liu G, Renzetti A, Farshi P, Yang H, Soave C, Saed G, El-Ghoneimy AA, El-Banna HA, Foldes R, Chan TH, Dou QP. Biological and Mechanistic Characterization of Novel Prodrugs of Green Tea Polyphenol Epigallocatechin Gallate Analogs in Human Leiomyoma Cell Lines. J Cell Biochem. 2016;117:2357-69.
Education: 2015 BS Biology, Loyola University Chicago
Teaching Experience:
Interdisciplinary Cell and Molecular Biology (IBS7015) - Tutor
Fundamentals of Cancer Biology (CB7210) - Tutor
Hometown: Farmington Hills, MI