Rayane Dennaoui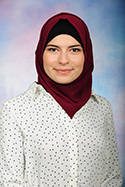 Rayane Dennaoui
3rd Year 
Dissertation Mentor: Kay-Uwe Wagner, Ph.D.
Research focus: Investigating the biological and clinical roles of JAK/STAT signaling in pancreatic adenocarcinoma and mammary cancer initiation, progression, and metastasis using genetically engineered mouse models.
Grants/awards/scholarships:
2019 Cancer Biology Director's Award, Wayne State University School of Medicine
2019 Cancer Biology Summer Undergraduate Research Fellowship
2019 - 2020 IBS Fellowship
Publications:
Al Hassan M, Fakhoury I, El Masri Z, Ghazale N, Dennaoui R, El Atat O, Kanaan A, El-Sibai M. Metformin Treatment Inhibits Motility and Invasion of Glioblastoma Cancer Cells. Analytical cellular pathology (Amsterdam).  2018;2018:5917470.
Education:
2018 M.S. in Cell and Molecular Biology, Lebanese American University, Byblos, Lebanon
2014 B.S. in Biology, Lebanese American University, Byblos, Lebanon
Hometown: Tripoli, Lebanon
Birthplace: Boston, MA